Edinburgh
Fringe Residency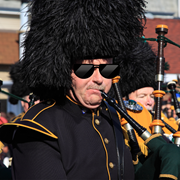 Funnyman Fred
31/08/2022
Our 2022 Fringe Comedy Residency
This summer we ran a competition to offer free accommodation at Point A Edinburgh for a Fringe performer in exchange for them curating a show, and sharing a bit of 'what's it really like' content.

Our winner, The Honourable Tom Houghton , turned out to be not only entertaining but pretty good company. He adopted the hotel plants, tested jokes on our team, ate 999 croissants and bedded down with us nightly after his fabulous Fringe performances. 

We were sad to see him go! If you haven't already, visit his website to find out where you can catch one of his shows near you. Here are some of his best moments, you can find the full highlights reel on our Instagram.